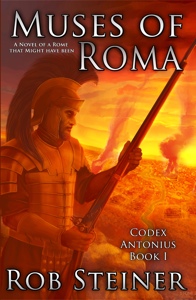 This is the official web site of Rob Steiner, author of fantasy, sci-fi, alt-history, and contemporary mystery novels.  Check out my newest release, MUSES OF ROMA, a sci-fi/alt-history novel about a Roman Empire that spawned an interstellar civilization.
I also hang out on Facebook, Twitter, and Google+.
If you're looking for my "day job" accomplishments as a technical writer, check out my LinkedIn page.